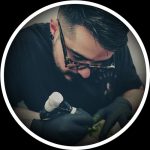 Een Cartoonkerstmis met Jairo Carmona
december 19, 2019

december 19, 2019

nl

https://www.killerinktattoo.nl/skin/frontend/killer/default/images/logo.svg

https://www.killerinktattoo.nl/
Voor Kerstmis zijn we dit jaar naar Londen afgereisd om Jairo Carmona te bezoeken, een tattoo-artiest die bekend staat om zijn heldere en kleurrijke cartoon-tatoeages met een nieuw jasje.
Jairo heeft ons echt in de kerstsfeer gebracht met een gezellige cartoon cabin-tatoeage die je zeker in een feestelijke stemming voor de feestdagen zal brengen.
Klik op de video hieronder om van zijn werk te genieten en we hopen dat je prettige kerstdagen hebt!
U kunt meer lezen over Jairo Carmona in onze blog Sponsored Artist of the Month.
Volg hem op Facebook en Instagram om op de hoogte te blijven van zijn laatste werk!