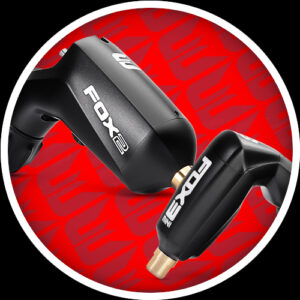 Equaliser Fox Tattoo Machines
De Equaliser Fox tattoo machines van KWADRON behoren tot de meest populaire rotaries van vandaag, met veel artiesten over de hele wereld die een Fox Mini of Fox Big gebruiken als onderdeel van hun set-up.
Aangezien de vraag naar de twee Equaliser Fox machines steeds groter wordt, blijft KWADRON de rotaries vernieuwen met nieuwe functies en de nieuwste onderdelen.
Lees verder om uit te vinden wat de nieuwste versies van de Equaliser Fox Mini V3 en Fox Big V2 de tattoo artiesten te bieden hebben.
Equaliser Fox Mini V3
Na het grote succes van de eerste en tweede generatie van de Equaliser Fox Mini tatoeëermachines, heeft KWADRON het V3-model verder gemoderniseerd met een nieuw, opgefrist design.
In vergelijking met de vorige versies, de met de Equaliser Fox Mini V3 biedt een uitwisselbare slaglengte, waardoor het veelzijdiger is dan ooit tevoren. De V3 rotary wordt geleverd met 3 excenters en kan snel worden verwisseld door 2 schroeven los te draaien en ze te verwisselen.
De Equaliser Fox Mini V3 wordt ook geleverd met 4 aandrijfstangen zodat tatoeëerders praktisch voor elke grip op de markt kunnen kiezen, zowel wegwerp of herbruikbaar en met of zonder de kraag.
Hoewel er enkele nieuwe wijzigingen kunnen zijn, één ding dat onveranderd blijft is de sterke, duurzame en probleemloze 4.5-Watt motor - het werkt brilliant zowel in vorige modellen als de vernieuwde V3 machine!
Met een combinatie van hoog vermogen, laag gewicht en de mogelijkheid om alle machineparameters aan te passen; is de veelzijdige Equaliser Fox Mini V3 een ideale rotary tattoo machine voor alle artiesten, ongeacht hun stijl of techniek.
Equaliser Fox Big V2
De tweede generatie Equaliser Fox Big tattoo machine heeft van KWADRON een enorme make-over ondergaan, zowel van binnen als van buiten.
In tegenstelling tot het vorige model, de Equaliser Fox Big V2 biedt nu een instelbare slaglengte van 1 tot 5 mm, waardoor de rotary veelzijdiger is dan ooit tevoren.
Artiesten kunnen nu met de Fox Big V2 zowel traditionele tatoeagenaalden als cartridges van het Cheyenne-type gebruiken, evenals wegwerp- en herbruikbare grips, met of zonder kraag. Voor degenen die traditionele naalden gebruiken, de machine wordt nu ook geleverd met een dikke, herbruikbare O-ring om de naald te stabiliseren, die duurzamer en effectiever is dan het gebruik van elastiekjes.
KWADRON heeft de Equaliser Fox Big V2 uitegrust met een duurzame 10-Watt motor - een recentere versie die in een van de Fox Big V1 werd gekenmerkt - om ervoor te zorgen dat de roterende machine voor alle stijlen geschikt is.
Om af te ronden, het strakke ontwerp van de Equaliser Fox Big V2 omvat uit een CNC-bewerkte, van een vliegtuig kwaliteit aluminium frame met een geanodiseerde kleur en een RCA-aansluiting.
Welke Equaliser Fox tattoo machine je ook kiest, je kunt er zeker van zijn, dat het een geweldige aanvulling zal zijn op je werkplek voor de komende jaren!