Cheyenne Hawk Thunder Drive + Grip Pakket
SKU CHE-THU-DRI-GRIP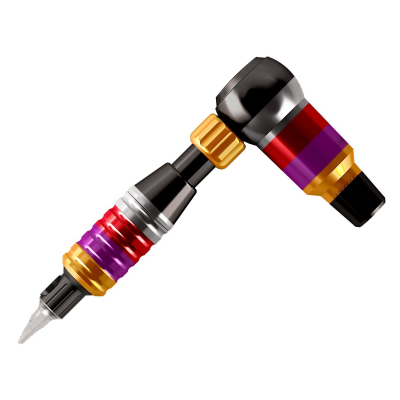 De Cheyenne HAWK thunder is de complete alles-in-één-machine, goed voor alle aspecten van tatoeëren. Het geeft u snelle steken en prikken en is erg krachtig zodat het ook uitblinkt in lijnen.
Wat is er nieuw vergeleken met oudere versies?
Het zit 'em in de kracht. Alle tattoostijlen en concepten zijn nu mogelijk zonder enig kwaliteitsverlies. Lijnen, contouren en kleuren op het hoogste niveau met slechts één machine !
De slag is dramatisch toegenomen tot wel 4mm. Deze toename in steeklengte, samen met de rotatiesnelheid van de nieuwe aandrijving en de geoptimaliseerde motor zorgen voor een hele hoge snelheid en acceleratie. De stroomreserves van de motor worden nu veel effectiever gebruikt. Dit kunt u niet alleen voelen, maar ook horen!
Wat blijft hetzelfde?
Het kenmerkende, ergonomische ontwerp blijft soortgelijk. De technische precisie van Duitse produktie. De veelzijdige selectie van naaldcartridges is perfect voor alle concepten en stijlen.
Technische Specificaties
Steek (mm): 4
Naaldgrootte (mm): 4.5
Gewicht (g): 77.5
Nominaal Voltage: 5-12V
Frequentie: 70-170 prikken per seconde
Dit pakket komt compleet met een Cheyenne grip naar keuze. De Cheyenne grips zijn verkrijgbaar in zowel 21mm als 25mm diameter.
Killer Ink Barrière Grip Hoezen zijn ook verkrijgbaar om uw grip te beschermen tijdens gebruik.
De Cheyenne Hawk Thunder drive machine kan aangesloten worden op iedere standaard tattoovoeding en komt compleet met de benodigde kabels om uw machine met danwel een Cheyenne voeding te gebruiken of een andere voeding.
NB: Dit produkt heeft een garantie van 24 maanden, die direct bij Cheyenne geldig is.
Levering
Alle bestelling die op een werkdag voor 16.00 uur geplaats worden, zullen nog dezelfde dag verzonden worden.

Verzendkosten zijn afhankelijk van de grootte en gewicht van de bestelling en beginnen bij €9,95 voor bezorging via UPS. Levering op de volgende werkdag is ook mogelijk.
Garantie
You might be interested in a cable?