Boek: Animal Ink door Mike De Vries
SKU SKBMDV03
In voorraad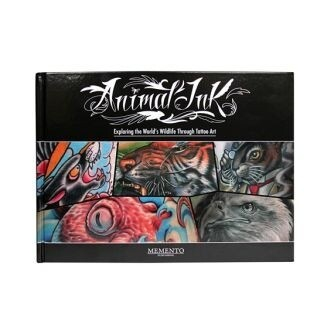 Animal Ink: Exploring the World's Wildlife Through Tattoo Art is het nieuwe hardcover boek van Mike DeVries. Animal Ink is een lust voor het oog en staat boordevol inspiratie van een aantal van de beste tattooïsten ter wereld. Met 303 volle kleurenpagina's, bevat deze artistieke schoonheid niet enkel tattoowerk van 160 getalenteerde tattoo-artiesten, maar het bevat tevens 62 verhalen over specifieke dierentattoos met details, betekenis en inspiratie van de verzamelaars die de kunst dragen en de artiesten die hen getatoeëerd hebben.
Dierenontwerpen komen over de gehele geschiedenis voor in alle facetten van de kunstwereld, dus het is geen verassing dat het gebruik van de schoonheid, kracht en elegantie van dieren veel aandacht heeft gekregen in dit genre van de tattookunst. Voor degenen die een dierentattoo willen, is er een eindeloze hoeveelheid aan stijlen, creativiteit en artiesten om uit te kiezen en Animal Ink omvat en viert deze vele verschillende vertoningen op haar pagina's met meer dan 1,500 tattoos van wezens van het wilde dierenrijk.
Of u nou geïnteresseerd bent vanwege het zoölogische aspect, de tattookunst, als naslagwerk, ter inspiratie of om bij te blijven bij de imposante prestaties van tattooïsten over de hele wereld, Animal Ink is een exceptionele toevoeging aan iedere bibliotheek. Dit hardcoverboek van hoge kwaliteit van 11 x 8.5" (28 x 22 cm) is uitgegeven door Memento Publishing en bevat het werk van een lijst met tattoosterren, waaronder:
Bez, Russ Abbott, Bob Tyrrell, Steve Morris, Mike DeVries, Ryan Hadley, Roman Abrego, Uncle Allan, Juan Salgado, Bugs, Boris László, Alex De Pase, Jess Yen, Jay Wheeler, Jeff Ensminger, Andrea Afferni, Josh Duffy, Sweet Laraine, Mick Squires, Carlos Rojas, Gunnar, Andrew Sussman, Jesse Smith, Aaron Bell, Andy Engel, Larry Brogan, Jason Stephan, Nick Baxter, Canman, Steve Wimmer, Adrian Edek, Aric Taylor, Big Gus, Arturo Ostrowski, Brandon Bond, Chris Reed, Colin Dale, David Glantz, Brady Willmott, Eva Huber, Destroy Troy, Jeff Johnson, Jeff Croci, Jee Sayalero, Aleks Punk, David Bennett, Florian Karg, Deano Cook, Andy Barrett, Brian Abbott, Katelyn Crane, Jason Vaughn, Johnny Jackson, Indio Reyes, Dj Minor, Jay Quarles, Jo Harrison, Kirk Alley, Mason Williams, Mike Ledger, Kurt Fagerland, Oddyboy, Ron Meyers, Jasmin Austin, Short, Roman Kuznetcov, Otto, Roman Warnick, Phil Robertson, Stefano Alcantara, Melissa Fusco, Leigh Oldcorn, Marvin Silva, Ron Russo, Matthew Hockaday, Sean Herman, Billy Beans, Bird, Caroline Hedgepeth, Clay Fraser, Dennis Curnette, Jason Adkins, Cory Ferguson, Jeremiah Barba, Joe Waulken, Khan, Marc Durrant, Daniel Cashoudian, Matt Dunlap, Sven Gnida, Tony Mancia, Mark Weiland, Phil Kefford, Phil Watkins, Marcelo Mordenti, Josh Bodwell, Loic Lavenu, Ben Corn, Brenda Flatmo, Calle, Petri Syrjälä, Christian Perez, David Bruehl, Tim McEvoy, Jonathan Montalvo, Jamie Lee Parker, Demon, Holly Azzara, Jason Morrow, Dave Wah, Timothy Boor, Fabian De Gaillande, James Kern, Dave Tedder, George Bardadim, Scott Olive, Paris Pierides, Vyacheslav Sazanov, Eric Kueh, Jeff Zuck, Kazimierz KOSA Rychlikowski, Pepa Heller, Vince Villalvazo, Zack Spurlock, Phillip Spearman, Rachel Gilbert, Dmitriy Samohin, Frank La Natra, Tim Senecal, Justin Page, Myke Chambers, Fabrizio Divari, John Lloyd, Matthew Amey, Tim Pangburn, Dave Barton, Daksi, Deno, Iban, Endre Szabo, Jeremy Miller, Nicklas Westin, Jose Perez Jr, Oleg Turyanskiy, Jim Sylvia, Tutti Serra, Timmy B, Reed Leslie, Thiago Padovani, Scott Kelly, Ignacio Sweeney, Hayley Lakeman, Dan Smith, London, Matteo, Cascetti, Kyle Cotterman, Ty McEwen.
Hardcover, 304 volle kleurenpagina's.
Levering
Alle bestelling die op een werkdag voor 16.00 uur geplaats worden, zullen nog dezelfde dag verzonden worden.

Verzendkosten zijn afhankelijk van de grootte en gewicht van de bestelling en beginnen bij €9,95 voor bezorging via UPS. Levering op de volgende werkdag is ook mogelijk.
Garantie