Boek: Black Tattoo Art II: Modern Expressions of Tribal - Edition Reuss
SKU BK-BTA2
In voorraad
€ 69,99
€ 69,99
€ 49,99
€ 49,99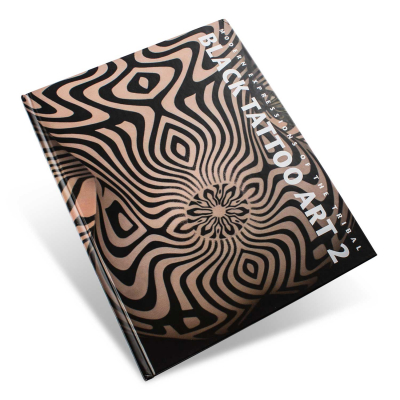 Black Tattoo Art II: Modern Expressions of the Tribal, de tweede incarnatie van wat de "Bible of Blackwork Tattoos" genoemd wordt continueert de fotografische reis rond de wereld van het eerste boekdeel. Het bevat absoluut de beste tattoos die de magie van deze oude kunstvorm uitlichten in aangrijpende, hedendaagse interpretaties van het lichaam.
Met de 448 pagina's van dit enorme tattooboekdeel, inclusief meer dan 600 afbeeldingen, zullen lezers vrij aparte bewegingen in de tattookunst ontdekken. Alles is mogelijk, alles mag: zwarte lijnen, stippen, effen, vlakken, hand-poked of getatoeëerd met een machine. En de creatieve omvang is ongelimiteerd: prachtige traditionele tribals, uitgebreide patronen en figuratieve ontwerpen, tot en met compleet vrije en onconventionele tattoo-ontwerpen.
De indrukwerkkende diversiteit van tattoo-ontwerpen gepresenteerd in Black Tattoo Art II is gebaseerd op een geweldig aantal internationale kunstenaars: 80 toptatoeëerders komende uit Sint Petersburg tot Sao Paolo, Austin tot Aotearoa, Barcelona tot Brooklyn en elders. Ze delen hun creativiteit, innovatie, en bezieling door hun afbeeldingen van hun tattoos en fijne kunst in dit boek te presenteren. Het boek bestaat uit vijf tantaliserende hoofdstukken, voorafgegaan door korte introducties: Ornamental/Neotribal, Dotwork, Celtic/Nordic, Abstract/Art Brut, en Traditional Revival. Samen brengen deze getatoeëerde werken de eindeloze mogelijkheden op u over van kunst, die gecreëerd kan worden met slechts naalden en zwarte inkt.
Technische Specificaties
Groot Formaat: 24.5cm x 31.5cm
Tekst in Engels en Duits
Levering
Alle bestelling die op een werkdag voor 16.00 uur geplaats worden, zullen nog dezelfde dag verzonden worden.

Verzendkosten zijn afhankelijk van de grootte en gewicht van de bestelling en beginnen bij €9,95 voor bezorging via UPS. Levering op de volgende werkdag is ook mogelijk.
Garantie