Cheyenne Hawk Spirit Drive + Grip Pakket in Zwart
SKU CHE-SPI-DRI-GRIP-BLK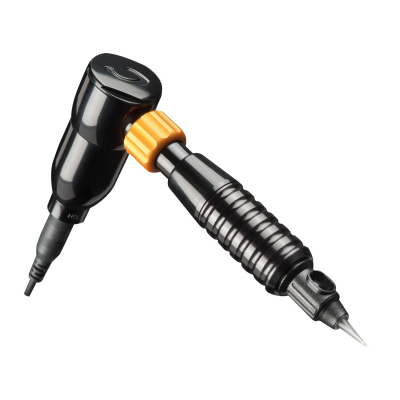 De Cheyenne Hawk Spirit machine is de complete alles-in-één-machine, goed voor alle aspecten van tatoeëren. Het geeft snelle steken en prikken, maar blijft toch zachtaardiger dan de Cheyenne Thunder.
De Hawk Spirit reageert goed op verschillende huidtypes en contouren en is daarom geschikt voor elk huidtype en ieder gebied. Daarnaast, dankzij het ergonomische handvat, past het goed in uw hand en kan het daarom heel precies gestuurd worden tijdens het tatoeëren. De Spirit is erg stil in gebruik, wat tevens comfort en stressvrij werken verzekert met een lage hoeveelheid vibratie.
Klein, licht en flexibel: Tatoeëren met deze machine is simpeler en veel makkelijker dan met traditionele machines en naalden. Het past zich aan aan iedere beweging die gemaakt wordt en aan de werkomgeving en -situatie. Toptechnologie met een hoge kwaliteit zorgt ervoor dat u zichzelf nog makkelijker kunstzinnig kunt uitdrukken. De Hawk Spirit kan makkelijk vastgehouden worden en daardoor worden de ideeën van de tattooïst optimaal overgebracht in iedere situatie.
Technische Specificaties
Hawk Spirit
Frequentie (prikken/seconde): 50-150
Slaglengte: 2,5mm
Aandrijving: 12v DC Precisiemotor
Nominaal Voltage: 5-12v DC
Maten: 110 x 75 x 25 (W x H x D)
Gewicht (g): 110
Dit pakket komt compleet met een Cheyenne grip naar keuze. De Cheyenne grips zijn verkrijgbaar in zowel 21mm als 25mm diameter.
Killer Ink Barrière Grip Hoezen zijn ook verkrijgbaar om uw grip te beschermen tijdens gebruik.
De Cheyenne Hawk Spirit Drive machine kan aangesloten worden op iedere standaard tattoo-stroomvoeding en komt compleet met de benodigde kabels om uw machine danwel met een Cheyennevoeding te gebruiken of een andere voeding.
NB: Dit produkt heeft een garantie van 24 maanden, die direct bij Cheyenne geldig is.
Levering
Alle bestelling die op een werkdag voor 16.00 uur geplaats worden, zullen nog dezelfde dag verzonden worden.

Verzendkosten zijn afhankelijk van de grootte en gewicht van de bestelling en beginnen bij €9,95 voor bezorging via UPS. Levering op de volgende werkdag is ook mogelijk.
Garantie
You might be interested in a cable?