Doos met 10 Stigma-Rotary® Advanced Needle Cartridges - SOFT EDGE MAGNUM
SKU 10-STIG-SEM
In voorraad
Nog %1 beschikbaar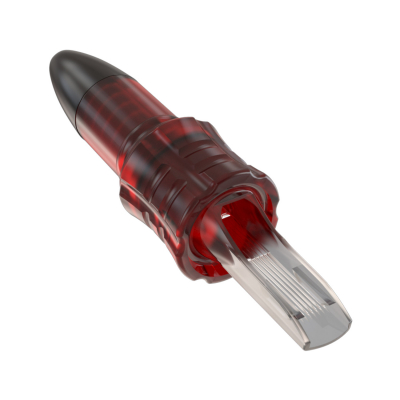 De Stigma naaldmodules zijn ontworpen met veiligheid in gedachten. Ze zijn voorzien van een externe afsluitdop, om lekkages binnen de grip en machine te voorkomen. Bij het aansluiten aan de Stigma grip vormt het een dubbele afdichting, zodat de naaldmodule het aansluitpunt volledig bedekt. Het 'umbrella trap' ontwerp voorkomt dat inkt / bloed over de zijkant van de naald modules spat. Het ergonomisch ontwerp van de naaldmodules zorgt ervoor dat u de naaldmodule comfortabel kan vasthouden, verder naar beneden dan je normaal zou doen, voor ultieme controle. P>
De externe afsluitdop biedt ook een ander belangrijk voordeel: De dikte en elasticiteit van het rubber materiaal van de afsluitdop, geeft een dempend systeem met 5% ~ 10% verzachting. Dit is niet alleen optimaal voor schaduwwerk maar ook voor lijnwerk. Met slechts een beetje 'give' zal schaduwwerk gladder worden en lijnwerk zal scherper zijn, wat uw tattooervaring zal verbeteren. Span> p>
Al deze voordelen maken de Stigma cartrdiges veiliger dan ooit om te gebruiken, zodat u zich kan concentreren op de tattoo! P>
Zijn Stigma naaldmodules compatibel met Cheyenne stijl / RPG Klik grips? Nee, Stigma naaldmodules zijn uniek en passen alleen op de Stigma grips.

Kan ik Stigma naaldmodules gebruiken met machines van andere merken? Ja, er zijn een paar verschillende opties afhankelijk van welke machine u heeft. Stigma® maakt een 'Universal-Screw-On connection clickable grip', die direct past op machines zoals de Cheyenne of Spektra, waar de naalddiepte veranderd kan worden door de grip rechtsom of linksom te klikken. Er zijn ook universele Stigma® grepen met backstem voor traditionele 'vice' systemen, waar de naalddiepte ook kan worden aangepast door de grip rechts of linksom te klikken . Deze kunnen ook gebruikt worden in combinatie met een 'Universal-Screw-On vice adapter' , zodat u deze grips kan verbinden tot de Universal-Screw-On aansluitingen zoals op de machines van Cheyenne en Spektra.
Levering
Alle bestelling die op een werkdag voor 16.00 uur geplaats worden, zullen nog dezelfde dag verzonden worden.

Verzendkosten zijn afhankelijk van de grootte en gewicht van de bestelling en beginnen bij €9,95 voor bezorging via UPS. Levering op de volgende werkdag is ook mogelijk.
Garantie