Mick Squires DVD - Realistic Animal Tattooing
SKU DVD-TATSOUL-MICKSQU
In voorraad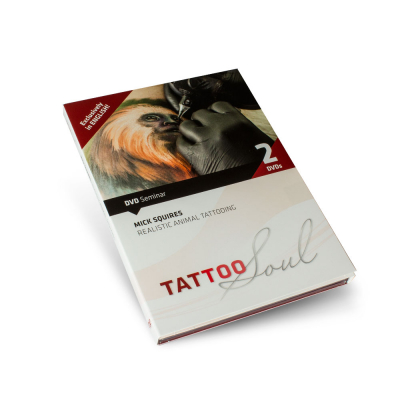 In deze TattooSoul DVD legt Mick Squires, één van de beste tattoo-artiesten uit Australië, uit wat de meest belangrijke basiskennis is voor het tatoeëren van dieren. U kijkt mee over Mick's schouder terwijl hij een tattoo van een aap maakt, maar zijn technieken kunnen ook toegepast worden op andere dierentattoo's. Mick legt iedere stap in detail uit en geeft zijn jarenlange kennis bloot.
Hoofdstukken:
1. Preparing the Stencil
2. Workplace Setup
3. Placing the Stencil
4. Tattoo Session I
5. Tattoo Session II
6. Aftercare
7. Interview
TattooSoul is een project voor tattoo-artiesten die hun werk serieus nemen en verder willen ontwikkelen.
Technische specificaties:
Lengte: 226 min. op 2 DVDs
Taal: Engels
Kwaliteit: 16:9 Widescreen PAL
NB: DVDs zijn onder geen omstandigheden retourneerbaar.
Levering
Alle bestelling die op een werkdag voor 16.00 uur geplaats worden, zullen nog dezelfde dag verzonden worden.

Verzendkosten zijn afhankelijk van de grootte en gewicht van de bestelling en beginnen bij €9,95 voor bezorging via UPS. Levering op de volgende werkdag is ook mogelijk.
Garantie